Greetings from our OEA President Scott DiMauro for the upcoming NCOEA Representative Assembly!
Concerned about your working conditions or our students' learning conditions? Participate in this Meet Elected Leaders opportunity to communicate your needs!
NCOEA Meet the Elected Education Leaders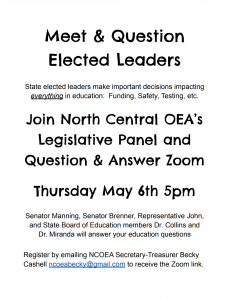 * Listed are the latest NEA officers and address. Please use for reference purposes.
* Below is the 2020-2021 OEA Membership Engagement, FCPE and Enrollment Materials annual update along with a newly created informational flyer. It is important you take a few moments to review this information as there have been some enhancements to the process and distribution of these materials for the upcoming membership year.
*Visit the Ohio Department of Education website for up-to-date information on Ohio's Schools and Districts
*Check out this website to see NEA's Public Education Forum and stay informed about campaign news and alerts about events in the NCOEA area.
http://strongpublicschools.org
*Please support ONE (Ohio's New Educators). Also, be sure to download the support materials for ONE in the link below. Need more information? Contact our NCOEA ambassador Zach Jones (zdjones09@gmail.com (419) 545-3120)