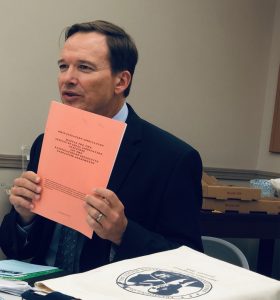 Mark Hill, Secretary/Treasurer started the meeting by speaking to us about Election Procedures and the 10 steps to Conduct an Election.  Thank you Mark for your help and clarification on these issues!
Rob Fetters shared the OEA Board of Directors Highlights
OEA is working to fix the broken State Report Card System.
Continue to advocate for the passage of the House version of HB 154 to end state takeovers and restore collective bargaining rights.
Hold local OEA RA delegate elections! Elections must be reported by October 15.
Ask locals when they are holding FCPE Drive and if they need assistance.  It is not only democratic candidates that we endorse, we support those who are Pro Public Education  Our goal is to have 15% or above in member participation and to ask for $2 per pay period.  
Please show your support to Ashland Teachers Association by liking their facebook page~ https://www.facebook.com/groups/316253288963112/